Athlete of the Month 2019-2020
February

Taylor Rodney – Little Winds
"Taylor is the true definition of leader! She has stepped up to the plate this year on LW in everything she does. Her basing technique has improved tremendously as well as her tumbling! She is a HUGE voice on the team. Whether she is giving motivational talks or simply just cheering on her teammates throughout the routine. Watching Taylor grow up this season has been amazing and we can't wait to see where her years at MDT take her!" ~ Coach Paige, Alyssa, and AJ

Caitlyn Goldberg – Radar

"Caitlyn has been a part of our program for many years and is a constant positive energy every time she is in the gym. As a Radar veteran flyer this year, she has taken a strong leadership role for the 2019-2020 season and continues to lead this team to bigger and better goals with each practice. Outside of her team practice, she is constantly in classes and/or privates to perfect her skills and gain new ones. We are very proud of the athlete Caitlyn has become!" ~ Coach Brittany B, Chelsey, and Kristen S

January

Kianna Reese – Fierce Winds
"Kianna is a hardworking, reliable athlete. She is a captain on Wind and is a breath of fresh air to coach! She's a Dynamite dancer serving you up with her own solo part in our dance!" ~ Coach Amber and Michelle

Izabella Thorbro-Steenberg – Blaze 
"Bella" never fails to amaze Jess and I with her hard work, strong mind, determination, and willingness to be a better version of herself at each and every practice. In the summer, Bella moved to VA from Orlando, and quickly adapted to the culture here at MDTVA. She went from having no body positions, to some of the most beautiful and effortless stretches and needles. Not only is Bella the baby of the team, she has also only been a cheerleader for a few months. We are blown away by her progression. She is always smiling, stretching, or making TikToks. She loves to be challenged and will be first to tell you that there's no FEAR in FIERCE. We love having Bella on Blaze!" ~ Coach Chardae and Jess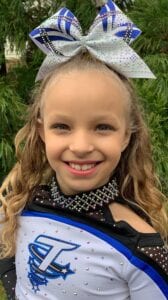 December

Tiffany Skanes – Thunder
"Tiffany is the definition of a team player! She never comes to practice without her positive attitude and eagerness to learn. She has been a versatile base both siding and maining, and has remained consistent in all of her tumbling skills. She's someone who always wants to get it right and we are happy to have her as a Twister this year!" ~ Coach Anna and Kristen C.
Jocelyn Burstein – Sprinkles 
"Jocelyn is a phenomenal athlete, she is an athlete that is dedicated, arrives on time and when she's here she's giving us 100% at every practice. She never complains when we have to condition or when we ask her to step in for another athlete to help. She's a hard worker and strives to do her best in everything. She is quiet and readily waits for feedback, she takes constructive corrections and applies them. We love having her on the team, she's a quiet yet stand out athlete. We love watching her perform with facials and be a true leader for the littles. Can't wait to see them shine this weekend at our first competition." ~Coach Shelby and Becky
November

Jordan Gibson – Cold Front

"Jordan is a quiet but powerful athlete. Not only is she an amazing back-spot who makes amazing saves, she comes as a full package with her tumbling and strong dance and performance during the routine. We are so proud of Jordan and cannot wait to watch her this season!" ~ Coach Matt T. and Brittany L.
Alyssa Rucker – Whirlwinds

"Alyssa is a well rounded, hard working athlete. From being a base last year, to a flyer this year, Alyssa can do it all! She is always up for a new challenge." ~Coach Becky and Delaney
October

Anilla Castro – Supercells
"Anilla is one of the  hardest working athletes I have ever coached. She eats, breathes, and lives this sport! She is         constantly in the gym working on her skills and has grown so much as a Twister! We are lucky to have athletes with her work ethic and determination in our gym! I can't wait to see what's in store for this dynamo!" ~ Coach Kristen M. and Anna
Anna Reed – Radar

"Anna has made exceptional progress this season on Radar. She impresses us  every practice with her commitment to learn and excel in becoming the best athlete she can be. With this being her first year in all star cheer, she has grown to be a positive role model and leader for her teammates." ~Coach Brittany B, Chelsey, and Kristen S
September

Kelsey Boettcher – Storm

"Kelsey has done an amazing job transitioning into a strong leader this season on Storm. Her knowledge and ability to help her teammates learn new stunting skills are  incredible. She has also done an amazing job acting as a fill in base for Sirens this summer!!" ~ Coach Shonte and Kristin K
Abby Coullahan – Quake
"Abby was nominated because she has risen above the expectations set for her. She  continues to impress us all with her talent and attitude. We are excited to see what she does in the  future" ~Coach Benito and Chardae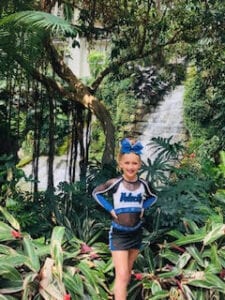 August

Kaydence Godwin – F5
"I would describe Kaydence as an energetic motivator that is truly a dynamo. She is known for her amazing tumbling abilities, however, she has become a very well rounded cheerleader. She has gone from being a flyer to now a main base that is able to handle elite level transition stunting. She is always pushing her self to be the best athlete, teammate, and role model. She is very coachable and takes direction well. You can often seer her at F5 practice motivating her teammates and helping if they need it. Kaydence is more vocal with her team and started to stand out a leader. However, she also very approachable. At the gym, you can see her giving other kids hugs and high fives or helping with our special needs team. She is proven to be a true asset to her team and gym! Congrats for your coaches, Kaydence, keep doing great things." ~ Coach Will, Matt, AJ, and True

Ayla Zdanowski – Sprinkles
"Ayla is a Sprinkles seasoned veteran entering her third year on the team. She is a well-rounded athlete being an elite tumbler, a strong base and has recently stepped up to fill a new role as a quantity flyer. Aside from her athletic ability, Ayla acts as a leader for her teammates, always doing what she is supposed to do and helping her teammates to follow suit. She is a coachable athlete and always a joy to be around!" ~ Coach Becky and Shelby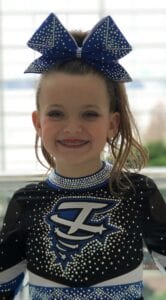 Athlete of the Month 2018-2019
April

Jade Fletcher – F5
"As the season comes to close and the pressure mounts, Jade has been a source of light and positivity for her team. She often offers words of encouragement to those that are struggling and takes on every challenge with great energy and enthusiasm. For the coaches, it is great to have an athlete that does her job at practice and works hard, but it is clear that Jade goes the extra mile for her F5 sisters!  Oh, and not only is she a talented athlete, but Jade can also SANG! Thank you, Jade, for all the hard work you truly deserve to be F5's  athlete the month!" ~ Coach Will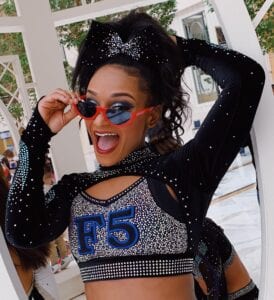 Riley Zemcik – Radar 
"Riley is an incredible athlete and amazing teammate on Radar this year. She has emerged as a leader and performs like a rock star at every event! She spreads positive energy and drive throughout practice and pushes her team to the next   level. It has been a pleasure to watch her grow into the athlete and leader she is on Radar this season."       ~Coach Brittany B.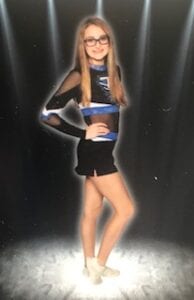 March

Molly Lockard – Breeze
"Molly is one of the hardest working athletes in the gym! Molly has a lot of responsibilities on the team and she handles them all like a pro! She is an absolute joy to coach!" ~ Coach Kristen M.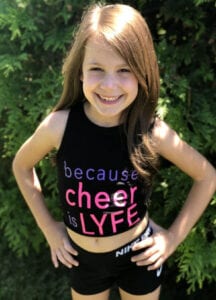 Victoria Pellegrini – Surge
"Victoria has worked hard all season long. She has a positive influence over her teammates and she knows how to motivate her team. We love having her on Surge!" ~Coach Delaney
February
Kylie Bellison – Lightning
"Kylie has grown so much this season as an athlete and does her job well. She has come out of her shell and understands performance and the technical aspect of the scoresheet. We are so proud of how far she has come! Keep up the great work, Kylie!" ~ Coach Matt T.

Bree Hornbecker – Sprinkles
"We've seen a huge improvement in her performance as an athlete on Sprinkles. We believe that hard work should never go unnoticed, and Bree deserves to be recognized as AOTM for the hard work she has put into her skill development and team!" ~Coach Delaney
January
Makayla Stafford – Reign
"Makayla has been putting in extra work in the gym this entire month and it shows! Her tumbling consistency has improved immensely and she takes it upon herself to throw extra reps during practice to make sure all of her skills are rock solid. On top of her dedication to the team, Makayla is an awesome performer and we always enjoy watching her in the routine. Keep up the hard work!" ~ Coach Matt G

Karsen Werts – Forecast
"Karsen has a presence on the team like no other. She commits to herself and her teammates consistently without waiver and shows them what it means to be a hard working cheerleader. Karsen has improved not only herself but those  teammates around her that she works with. Even as a first year member of our program, she portrays the mindset and skills of someone who has been a part of MDT for years. We are very proud of Karsen and excited to see what she continues to do during her time here at MDT. It is a pleasure everyday that we get to coach her." ~Coach Benito

December
Jacqueline Keefer – Sky
"Jac is such a joy to coach. She is always excited to be at practice. She is determined and works hard every minute she is in the gym." ~ Coach Amber H.

Emily Buss – Velocity
"Emily is awesome and hard working! She is attentive and applies corrections, and for that reason she continues to        progress. She is encouraging to all of her teammates, and is a big asset to Velocity. We are excited to see her meet her team and individual goals throughout this season!" ~Coach Becky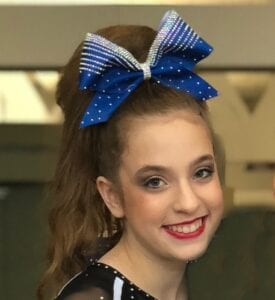 November
Rebecca Davis – Sirens
"Rebecca has been with the program now for three years and every year her growth impresses everyone. Rebecca is hard worker dedicated to perfecting whatever skills needed for her team. Her gorgeous presence in the air is truly something to witness." ~ Coach Shonte

McKenna Nowell – Ice
"Aaron and I have both had the pleasure of coaching McKenna in the past and we are very impressed with her growth in a few short years! She has emerged as a leader for Ice, continues to attain new tumbling skills, and is a strong, versatile stunter. When we need someone to step up and get their team together, McKenna steps up and takes on that role!" ~ Coach Becky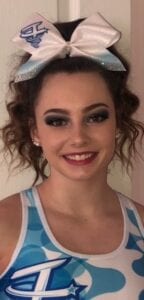 October
Piper Lorah – Flurries

"Piper is an asset to Flurries. She is a hard worker who always leads by example! Her love for the sport is infectious!"
~ Coach Jada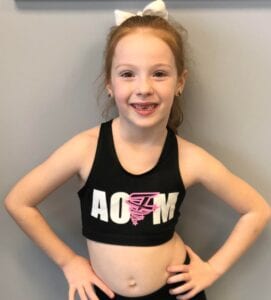 Elana Shapero – Radar

"Elana is the type of athlete every coach wants on their  team! She always gives it her all  and is  always looking to improve. She's a team player and we can't wait to watch her this season!"
~ Coach Chelsey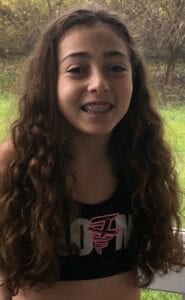 September
Blaire Glover – Cold Front
"Blaire has shown tremendous improvement over the summer. Although she is the youngest on the team, she has amazing drive, focus and passion just as the older members. She is extremely coachable, with her ability to make corrections with a positive attitude. Although she is growing into a fierce flyer, her tumbling is dynamic as well! We are excited to see her apply the full package that she has on the competition floor!" ~ Coach Brittany
Margarete Walker – Surge
"Margarete has stepped up to the challenge of a level two team and gained all of her necessary tumbling skills and more. She has also learned main and side basing after being a back spot previously. She always has a smile on her face and is willing to try anything we ask her to!" ~ Coach Madison
August
Auja Contardo – Supercells
"Auja has really stepped up since last season. She has been honing her craft and focusing on her technique and execution. She has  improved so much over these last few months! We can't wait to see what's in store for her this year!" ~ Coach Kristen M.
Morgan Lewis – Haze
"Morgan is an incredible athlete, she works hard inside and outside of the gym. She takes her role as a flyer very seriously and not only comes to flight school with enthusiasm but works hard at home and shows improvement in her stretches each week. She    always comes in with a positive attitude and is always willing to try something new. She is determined, inspiring, and a great role model for this team!" ~ Coach Shelby