Athlete of the Month 2018-2019
December
Jacqueline Keefer – Sky
"Jac is such a joy to coach. She is always excited to be at practice. She is determined and works hard every minute she is in the gym." ~ Coach Amber H.

Emily Buss – Velocity
"Emily is awesome and hard working! She is attentive and applies corrections, and for that reason she continues to        progress. She is encouraging to all of her teammates, and is a big asset to Velocity. We are excited to see her meet her team and individual goals throughout this season!" ~Coach Becky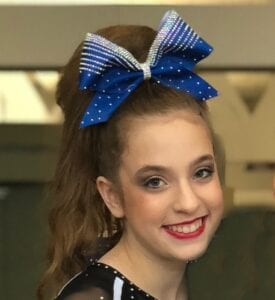 November
Rebecca Davis – Sirens
"Rebecca has been with the program now for three years and every year her growth impresses everyone. Rebecca is hard worker dedicated to perfecting whatever skills needed for her team. Her gorgeous presence in the air is truly something to witness." ~ Coach Shonte

McKenna Nowell – Ice
"Aaron and I have both had the pleasure of coaching McKenna in the past and we are very impressed with her growth in a few short years! She has emerged as a leader for Ice, continues to attain new tumbling skills, and is a strong, versatile stunter. When we need someone to step up and get their team together, McKenna steps up and takes on that role!" ~ Coach Becky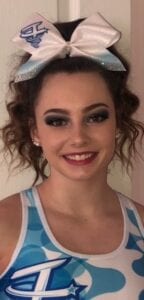 October
Piper Lorah – Flurries

"Piper is an asset to Flurries. She is a hard worker who always leads by example! Her love for the sport is infectious!"
~ Coach Jada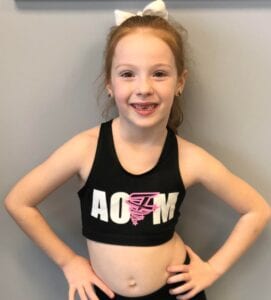 Elana Shapero – Radar

"Elana is the type of athlete every coach wants on their  team! She always gives it her all  and is  always looking to improve. She's a team player and we can't wait to watch her this season!"
~ Coach Chelsey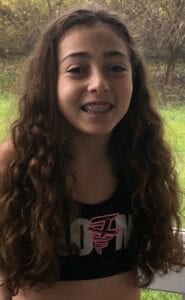 September
Blaire Glover – Cold Front
"Blaire has shown tremendous improvement over the summer. Although she is the youngest on the team, she has amazing drive, focus and passion just as the older members. She is extremely coachable, with her ability to make corrections with a positive attitude. Although she is growing into a fierce flyer, her tumbling is dynamic as well! We are excited to see her apply the full package that she has on the competition floor!" ~ Coach Brittany
Margarete Walker – Surge
"Margarete has stepped up to the challenge of a level two team and gained all of her necessary tumbling skills and more. She has also learned main and side basing after being a back spot previously. She always has a smile on her face and is willing to try anything we ask her to!" ~ Coach Madison
August
Auja Contardo – Supercells
"Auja has really stepped up since last season. She has been honing her craft and focusing on her technique and execution. She has  improved so much over these last few months! We can't wait to see what's in store for her this year!" ~ Coach Kristen M.
Morgan Lewis – Haze
"Morgan is an incredible athlete, she works hard inside and outside of the gym. She takes her role as a flyer very seriously and not only comes to flight school with enthusiasm but works hard at home and shows improvement in her stretches each week. She    always comes in with a positive attitude and is always willing to try something new. She is determined, inspiring, and a great role model for this team!" ~ Coach Shelby
Athlete of the Month 2017-2018
April 
London Beckford – Little Winds
"London is a hard worker and tough competitor. She takes her role on Little Winds seriously and always strives to be better than the day before. London is a great athlete and a pleasure to coach. I can't wait to see what London's future holds at Twisters over the next few years. Congratulations!" ~ Coach Hollis
Abigail Fink – Haze
"Abigail is one of our fantastic Haze athletes! She is an outstanding leader and has a incredibly positive attitude that is contagious."
~ Coach Brittany
March
Natalie Shope – Fierce Winds
"Natalie is such a great leader on Wind! She is always at practice and  always has a positive attitude. She is the first to help cheer on her teammates and offers up suggestions on how to make things hit! She is an overall asset to the team." ~ Coach Amber
Leila Bataineh – Sprinkles
"Leila is a natural leader and an asset to Sprinkles! She always does her job (and sometimes new jobs!), never complains, and gives it her all. She helps other athletes out on the team and always encourages them to do their best. Leila has also been crossing over to Haze for the past couple months and has been able to balance both teams well."  ~ Coach Chelsey
February 
Madison Brouillette – Supercells
"Madison is a MDT veteran athlete that embodies all that it means to be a Maryland Twister! She is a huge asset to not only Cells, but the entire program! She is simply a joy to coach!" ~ Coach Kristen
Logan Voegele – Blackout
"Logan is the type of athlete that every coach wants on their team. He's self motivated, a hard worker, and a team player!"  ~ Coach Chase
January 
Danilynn Walker – Freeze
"Dailynn is a tiny ball of positivity and energy! She is a first year Twister and we are so happy to have her on Freeze. Dailynn pushes her team through positivity and love for all her teammates. She loves learning new roles, trying new things and working hard to please her coaches ." ~ Coach Shonte
Arianna Forte – Storm
"Ari is such a versatile athlete! She does it all and always has a positive  attitude not matter what!" ~ Coach JT
December
Chris Murphy – Smoke
"Chris was a varsity soccer player that had a passion for being on the blue mat and under the lights. He bounced back from a       dislocated thumb earlier this season and has done an amazing job proving no matter what obstacles are thrown your way to keep pushing towards your goal. Now his tumbling is  stronger than ever. Chris isn't afraid of leadership. He has naturally stepped up and become the voice of  reason on Smoke. He does a great job at keeping the team focused on whatever may need to be get          accomplished during practice. Athlete of the month was a no brainer." ~ Coach Mitchell
Kassidy Weatherford – Haze
"Kassidy is a very important part of the Haze team. She comes in with a can do attitude and a willingness to learn that inspires her teammates. Kassidy not only strives to learn new skills but to perfect them."  ~ Coach Brittany
November
Elise Kocak – Sidewinders
"Elise is a second year Sidewinder. She is always willing to step in and base or back spot if someone is absent. Her tumbling has really improved! And we love watching her perform!"
~ Coach Jazmin
Mya Hall – Radar
"Mya has improved in all areas of cheer since the beginning of the season. She is such a hard worker! She double teams and gives her all to both of her teams."
~ Coach Chelsey
October
Savannah Tasker – Cold Front
"Savannah is the type of athlete that is ready to jump in and help any stunt. She truly is a technician when it comes to grips. To top it off she has a positive attitude. She has been a pleasure to coach. Congrats Savannah!" ~ Coach Mitchell
Kayla Rucker – Forecast
"Kayla is not only an athlete whom other athletes can learn from but anyone who walks into Twisters can observe how well she personifies the program as a whole. We are very proud of Kayla and can not wait to see what she does next!"  ~ Coach Benito
September
Jamie Ralph – Eye of the Storm
"Jamie started the new season with passion and dedication. She has worked really hard on her leadership skills by consistently being an example for Eye's required homework. She has dedicated herself to getting stronger by completing the tasks and posting them to the team page. She encourages her team mates to follow. She also has sent many uplifting messages and is always reacting to other team mates posts. Great attitude Jamie! Great way to start the season!" ~ Coach Sharon
Mikayla Young – Ice
"Mikayla is a total-package athlete. She is a strong stunter, tumbler, and always comes to practice with a great attitude." ~ Coach Becky
August 
Hannah Walker – F5
"This is Hannah's second year at Twisters and on F5. She has made tremendous strides as a main base who used to be a flyer as well as increased her tumbling difficulty. There are many great things about Hannah that have carried over from last season. First, her work ethic is always to give 100%. She is coachable and takes direction well. Second, she is dedicated to her craft. She was given the task of learning how to main base and she is always at practice working to be the best. Last, she is always pushing herself to the next level. She is always training harder more advanced skills, especially when it comes to tumbling. We are proud to have Hannah on the team  because of her positive, coachable, and infectious attitude. Thank you for being a great example of team player! Congrats on Athlete of the Month!" ~ Coach Will
Hannah Walls – Surge
"Hannah is such a hard worker! She always leads by example and pushes herself to the next level." ~ Coach Becky