Cheer and Tumble Summer Fun Clinic!
Come join the Summer fun! This is a great camp for anyone that loves cheer or would love to try it! This camp will focus on the fun fundamentals of cheer – tumbling, stunting, motions, dance, jumps, strength, and flexibility. Athletes in this camp will learn a mini routine that will be performed for the parents on the last day of camp!
9:00 am-3:00 pm
Pack a Lunch!
$175
June 17th-21st
June 24th-28th
July 8th-12th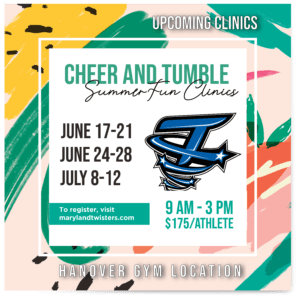 Fly Girl Clinic
This camp is for the fierce flyer who would like to perfect their stunting skills in the air. They will also learn new spinning transitions, dismounts, baskets and more! All flyers will also work on their flexibility. Ages 8-18.
6:00-8:30 pm
$100
June 21st
July 12th
August 9th
$100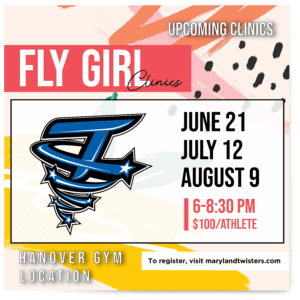 High School Prep Clinic
This camp is for 8th grade to 11th grade aged athletes only. This camp will better prepare athletes for their high school tryouts. All athletes in this camp will work on their stunting, tumbling, motions/cheer and dancing!
We will hold a mock tryout on the last day of camp to help prepare each athlete!!!
11:00am-3:00 pm
$85
August 1st-2nd
August 8th-9th