NOW OFFERING
Virtual Classes!
Click here to register!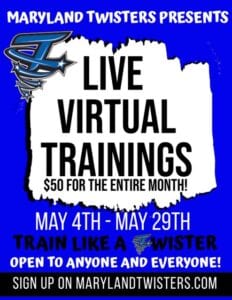 The Maryland Twisters Allstars offer classes  for all ages and talent levels. We focus on training in each of the important categories in cheerleading: tumbling, jumps, stunting, and more!
We create our class schedule with you in mind! Our classes offer something for everyone at the most convenient times for our busy families. Classes are monthly enrollments.
Please click here for our Hanover Classes.
MAKEUP POLICY
No make-up classes are offered.
CLASS TUITION
Typically, the number of classes each month will range between 3 and 5, averaging 4 per month. Tuition rates WILL vary based on the number of classes in a given month. A month that has 3 classes will be $48.75, 4 classes will be $65.00, and 5 classes will be $81.25. Class tuition is not based on attendance as it simply reserves your spot in the class.
NO-RISK TRIAL
Enroll anytime (space permitting). If after the first class you are not satisfied in any way, email us within 24 hours and we will refund your tuition.
OPEN GYM
Open gym is on Friday evenings from 6:30-8:00 pm in our Maryland facility. Its drop in and pay as you go for $10. Please make sure that if it is your first time visiting that you complete our WAIVER HANOVER 2019-2020
OPEN GYM SCHEDULE:
Friday: Open Gym 6:30-8:00 pm, Cost: $10
HOME SCHOOL CLASSES in Maryland
To learn more about our Home School Classes please click here.
DROP IN CLASSES
In the New Year we will be offering the option to "Drop-In," to any tumbling class we offer. Athletes can drop in to any class an unlimited number of times as long as there are openings in the class.
Price: $22 per class
Drop-ins must pay at the window right before the class starts. No advanced booking for drop-ins.  Drop-in spaces are available on a first-come basis.
This is a great way to participate in our tumbling classes without having to commit to the entire 2 month session.
Please click here for our Hanover Classes.