5 Cities, 4 Weekends, 1 Memorable Month!
Things always kick into high gear during the month of February! But this season, we went into overdrive! We hit some of the biggest stages in the industry and our athletes made us so proud!
We kicked the month off with ALL of our teams attending Battle at the Capitol at National Harbor. We loved having all of our athletes together in one spot!
At Battle we took home
Three 3rd Place Finishes
Eleven 2nd Place Finishes
AND SEVEN NATIONAL CHAMPIONSHIP TITLES!!
Congratulations to Perfect Storm, Mist, Haze, Whirlwinds, Cold Front, Supercells, and Reign on winning Battle! And a special shout out to Reign for also winning your FULL PAID BID to the Cheerleading Worlds!
Once the Battle was complete it was time to take on Cheer and Dance Extreme's Mid Atlantic Open Championship in Richmond!
We took home
One 2nd Place Finish
AND FOUR 1st PLACE FINISHES!!
Congratulations to Haze for winning the Best Tumbling Award! And a huge congratulations to Thin Ice for winning their At Large Bid to the Cheerleading Worlds!
Things didn't slow down! Next, we took on two cities in one weekend! Our Level 1 and 2 Teams competed at Maryland Madness in Upper Marlboro and Eye along with our Level 6 Teams traveled to Atlanta for Cheersport Nationals!
That weekend we were awarded
Four 3rd Place Finishes
Six 2nd Place Finishes
Eight 1st Place Finishes
Congrats to the following teams for their specialty awards: Perfect Storm – Best Tumbling, Flurries – Best Jumps, Haze – Best Dance!
BLAZE WON GRAND CHAMPIONS!!
AND EYE OF THE STORM WAS CROWNED CHEERSPORT NATIONAL CHAMPIONS!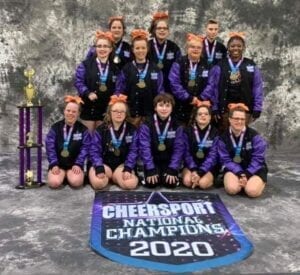 We finished the month with the Super Bowl of Cheerleading – NCA All Star Nationals in Dallas, TX. We loved watching our athletes compete against the best athletes in the country! Majority of our teams finished the weekend in the top half of their division with very steep competition!
Congratulations to Supercells and Reign on your Bronze Medal Finishes at NCA!
And a huge Congratulations to Supercells for also earning your At Large Bid to the Summit!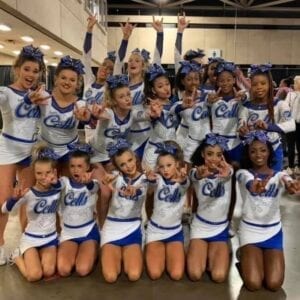 It was one crazy month and we are proud of our athletes and everything they accomplished!