Classes in Virginia
Click here to register!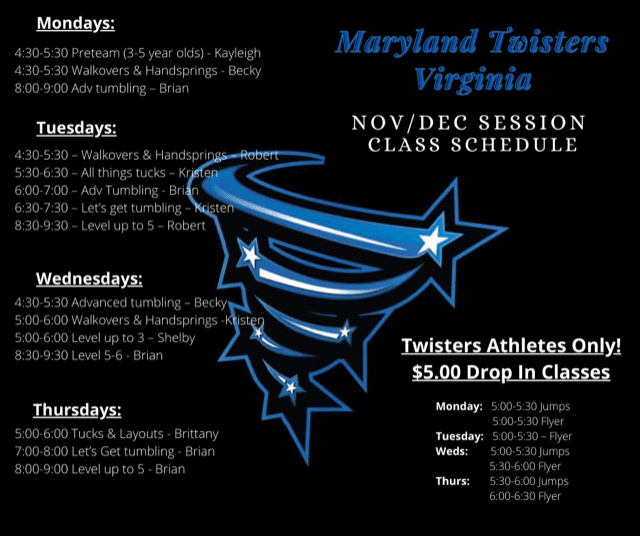 Twisters Allstars Virginia offers classes in Sterling, Virginia for all ages and talent levels. We focus on training in each of the important categories in cheerleading: tumbling, jumps, stunting, and more!
We create our class schedule with you in mind! Our classes offer something for everyone at the most convenient times for our busy families. Classes are session (2 month) enrollments.
Please click HERE for our Sterling Classes.
CLASS TUITION
Typically, the number of classes each month will range between 3 and 5, averaging 4 per month. Tuition rates WILL vary based on the number of classes in a given month. A month that has 3 classes will be $48.75, 4 classes will be $65.00, and 5 classes will be $81.25. Class tuition is not based on attendance as it simply reserves your spot in the class.
NO-RISK TRIAL
Enroll anytime (space permitting). If after the first class you are not satisfied in any way, email us within 24 hours and we will refund your tuition.
MAKEUP POLICY
For a class missed due to weather-related gym closings, the athlete will be issued a credit on their iClass account for that day. For a class missed due to extra team practices or competitions on the Maryland Twisters competition schedule, the athlete will receive a credit on their iClass account once the coach or Staff Adviser verifies the schedule change.
OPEN GYM
Due to Covid, Open Gym has been postponed for the time being.
DROP IN CLASSES
DUE TO COVID WE WILL NOT BE ALLOWING DROP-INS UNTIL FURTHER NOTICE
Athletes may "drop-in" to any tumble class an unlimited number of times as long as there are openings in the class.  To "drop-in" to a tumble class please call the office no earlier than an hour before the class begins to see if there is space available. Athletes that want to register for the full session have first priority. If there is space available, the office will "drop" the athlete's name into the class, however, they will not be fully rostered (able to join the class) until you sign into your iClass account and pay the drop-in rate. Also, please note, if an athlete would like to drop into a class that begins at 8:00pm, you must contact the office no later than 7:45pm.
Drop-in spaces are available on a first-come basis.
Price: $22 per class
This is a great way to participate in our tumbling classes without having to commit to the entire 2 month session.
We DO NOT allow drop-ins for stunt classes.