Classes in Virginia
NOW OFFERING
Virtual Classes!
Click here to register!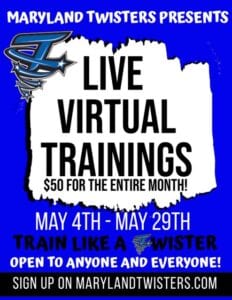 Twisters Allstars Virginia offer classes in Sterling, Virginia for all ages and talent levels. We focus on training in each of the important categories in cheerleading: tumbling, jumps, stunting, and more!
We create our class schedule with you in mind! Our classes offer something for everyone at the most convenient times for our busy families. Classes are session (2 month) enrollments.
Please click HERE for our Sterling Classes.